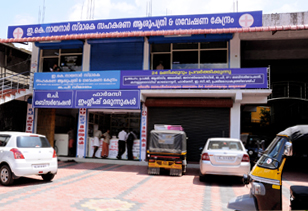 Mission & Vision
1 To provide the best medical service to the general public at an affordable rate
2 To establish a super-speciality hospital with all the modern amenities.
3 To start and run clinics, x-ray MRI Scan, CT scan, wholesale & retail medical shop etc
4 Establish research centres in different streams like Allopathy, Ayurveda etc.
5 Introduce various immunisation programs
6 To publish books, magazines, periodicals, etc and distribute them directly or through agencies.
7 To provide harmless, efficient & effective medical service
8 Establish Government recognised medical colleges, paramedical institutes, nursing schools, pharmacy colleges and lab & x-ray technician courses etc.
9 Introduce Ambulance Service for the general public.
10 To collect the funds for running the hospital through selling shares, getting loan from the government, other institutions and individuals (natives/NRIs/ foreign nationals) or grants, donation and investments. Introduce special programs by offering special discounts to share holders/ investors
11 Run medicine production unit, printing press, Photostat, STD/ISD/FAX/Canteen and other shops directly or under contract basis for the proper functioning of the hospital.
12 Purchase/ rent / lease fixed assets or movable assets for the hospital
13 Appoint or recruit qualified and specialised doctors & paramedical staff on regular(salary) basis or on contract basis(as per the regulations agreed by the Joint Registrar) or as a freelancer or on commission basis or any other suitable manners
14 Considering the increasing expenses in the medical industry, introduce plans independently or in tie – up with insurance companies, under the interest of the members and the co-operative society
15 Build wards and buildings/rooms with enough facilities for the treatment of inpatients. Charge the patients considering the service of the doctors, paramedical staff and other staff
16 Collaborate with other Super speciality hospitals and expert doctors for ensuring the best service in modern & international standards
17 Co-ordinate programs with charitable societies & trusts to offer high standard treatment at a discounted rate or at free of cost
18 Receive donations from the individuals, institutions, societies, trusts & companies and plan special programs for the poor and downtrodden and offer them services at discounted rate or free of cost
19 Plan and coordinate other programs to achieve thes above mentioned objectives of the society.